Superior Power Solutions combines over 50 years of experience to offer the most experienced service team to provide service to your power protection system. We offer various service plans including emergency repair, straight time and materials, and preventive and full maintenance contracts. All service programs offer Online Customer Access to review and/or print service reports, schedules or contracts.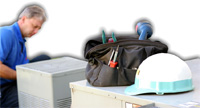 Our service engineers are available on-call to provide Emergency Repair Service 24 x 7 x 365, or to provide scheduled service and repairs to meet your specific service requirements or as per Superior Power Solutions' recommended standards on a Time and Materials basis.
Service Contracts
Superior Power Solutions offers various standard or customized service contract options to minimize service expense in lieu of random service repair calls or time and materials arrangements through a strategic scheduled service program.
Preventive Maintenance (PM) is key to preventing downtime associated with your power protection system. A standard PM program can be customized to meet your specific requirements but generally incorporates the following options:
Quarterly, Bi-Annual, or Annual PM Inspections
Battery System Maintenance
Load Testing – Verification of Calibration & Performance
Infrared Scans of UPS Maintenance Bypass and Load Panels
Priority Emergency Service and Response
Unlimited 24 x 7 Technical Support
On-Line Service Reports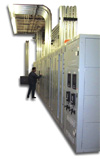 Or a Full Maintenance (FM) program can be customized by Superior Power Solutions to incorporate the following features:
PM Program (see above)
Battery Removal/Replacement/Disposal
Repair/Replacement of Expendable Parts
Response Time Commitment
Catastrophic Failure Replacement
In addition to our standard plans, there are a number of other options that are considered:
Multiple Unit Discounts
Warranty on PM or FM Plans
Customized Service Plans
Full Coverage Battery Plans
Extended Term Discounts
Call

S

uperior

P

ower

S

olutions Today! 1-866-252-6017