Superior Power Solutions fully supports preventive maintenance and repair services for single phase UPS equipment on-site or through our depot repair center.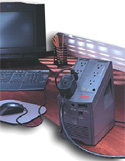 Often "out of sight and out of mind" most facilities which incorporate a large population of small UPS are often left unattended and are not proactively monitored. Generally, a problem with a UPS often goes undetected until there is a sudden loss of power. The resulting impact can be a matter of downtime inconvenience to more serious complications including hardware failure or software corruption.

Instead, allow Superior Power Solutions to provide a proactive service and repair program for your UPS population. Preventive maintenance and repair services are performed either on-site or through our Rebuild/Exchange Program.

Our Automatic Service Schedule (ASS) Program keeps the liability of service scheduling, tracking and recordkeeping in our hands.
Call

S

uperior

P

ower

S

olutions Today! 1-866-252-6017